If you're experiencing an issue when loading up Jurassic World Evolution on PC where you can see the game cursor, hear the audio but you cannot see any visuals, we have produced a list of solutions that has worked for different users below. Please follow each step below to help run the game:
1. VERIFY THE INTEGRITY OF YOUR GAME FILES WITHIN STEAM

Steam have provided a very thorough guide to this here: https://support.steampowered.com/kb_article.php?ref=2037-QEUH-3335

2. ENSURE YOUR WINDOWS VERSION IS FULLY UP-TO-DATE:
Press the Windows key -> type 'Check for updates' and select -> Check for updates and install any outstanding updates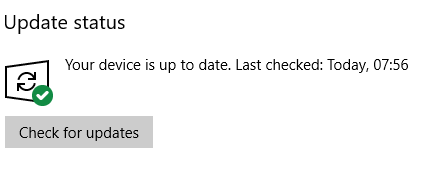 3. REMOVE NAHIMIC SONIC STUDIO AND/OR SONIC RADAR
We've observed a large number of reports that Jurassic World Evolution crashes on machines that have Nahimic Sonic Studio, Sonic Radar or similar audio applications installed. These programs often come pre-installed on machines and many users are unaware they're present.

Check to see if they're present on your system by looking at your Task Manager processes, either by typing "Task Manager" into the Windows search bar or by pressing Ctrl + Alt + Del and selecting Task Manager. Disable the processes and see if Jurassic World Evolution™ now loads successfully.

Please consider removing these applications entirely if the game is persistently crashing on launch.
4. ENSURE YOUR GRAPHICAL DRIVERS ARE UP-TO-DATE:
Updating drivers for your graphics card and some peripherals does not work with the automatic Windows Updater & must be acquired by the manufacturer's website.

For those using 'GeForce Experience' to update their Nvidia driver. Please select 'Custom Installation' and select the option for a clean install of the latest drivers.

For Intel graphics cards, you can get the drivers at www.intel.com (Note: Intel graphics cards are not officially supported by Jurassic World Evolution™ at this time)

Some notebook computers will require that only drivers validated by the system manufacturer may be installed. Validated drivers should be provided on the manufacturer's website.
5. DISABLE THE STEAM, DISCORD AND GEFORCE OVERLAYS:
STEAM:
Steam -> Settings -> In-Game and untick the 'Enable the Steam Overlay while in-game' option

DISCORD:
Head to 'User Settings' -> 'Games' and toggle the overlay to Off.

NVIDIA GEFORCE EXPERIENCE:
Head to 'Settings' -> 'General' -> 'In-game overlay' and toggle the overlay option to Off.
6. UNPLUG ANY 3RD PARTY PERIPHERALS
Some third-party peripherals can cause conflicts when loading up games, so please unplug everything except the necessary keyboard and mouse.
7. LOWER YOUR WINDOWS RESOLUTION TEMPORARILY, THEN CHANGE IT BACK
We have found that this has worked across many PC games since the Windows 10 April 2018 Creators update. It will trigger Windows to update your chosen display settings.
If none of the above has helped; please use the button below to contact our support team.