How can I report a Steam Workshop creation?
On PC and Mac, you are able to report another player's blueprint for violating the code of conduct in Planet Coaster by following these steps:
Open the offending blueprint page in Steam.
Locate the flag icon below the bottom right-hand corner of the blueprint image.
Click this to open the 'Report This Item' box.
Enter your reasons for reporting the item, including relevant links or other evidence.
Select 'OK'.
These reports will be reviewed and actioned as necessary according to the user guidelines provided by both Frontier and Steam.

You can find the rules for the Steam platform and workshop submissions here: https://support.steampowered.com/kb_article.php?ref=4045-USHJ-3810

The Steam subscriber agreement also covers any user-generated contact uploaded to the Workshop: http://store.steampowered.com/subscriber_agreement/
How can I report a Frontier Workshop creation?
On Planet Coaster: Console Edition, if you wish to report a creation from the Frontier Workshop, you can do this by selecting the creation, and then selecting the red flag icon in the bottom right corner of the screen.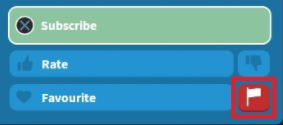 If you would like to submit further information relating to the creation you'd like to report, please use the button below to contact our support team.