Before opening a ticket, please run through the following troubleshooting steps to help with your issue:
1. Update your Graphics card drivers

Please check that all Windows updates have been applied (go to Start/Search --> Windows Updates --> Check for updates) and that all of your device drivers are fully up to date.

Updating drivers for your graphics card, and for some specific peripherals, won't be possible through the automatic Windows Updater.  These can instead be acquired via the manufacturer's website.

For NVIDIA cards, you can get the drivers at www.nvidia.com and for ATI cards at www.amd.com. Drivers for Intel HD GPUs can be found at www.intel.com.

Some laptop manufacturers intend that you download specific OEM (Original Equipment Manufacturer) drivers, which should be available to you via their own website.

If your issue persists, please provide us with as much detail as possible as to the circumstances under which the issue occurs, how frequent it is etc. You will also have to provide a system report in the form of a DirectX diagnostic when contacting our support team, which you can do below.

2. Turn off any background DVR recording

On some systems, it may be the case that your game is being recorded in the background by Xbox Game DVR or NVIDIA shadowplay.

These can be disabled as follows: 
Xbox Game DVR
While in-game press
Windows + G
to bring up the game bar.
With this showing, you should be able to select the settings "Cog".
From here, please uncheck "
Record game in the Background
" as shown below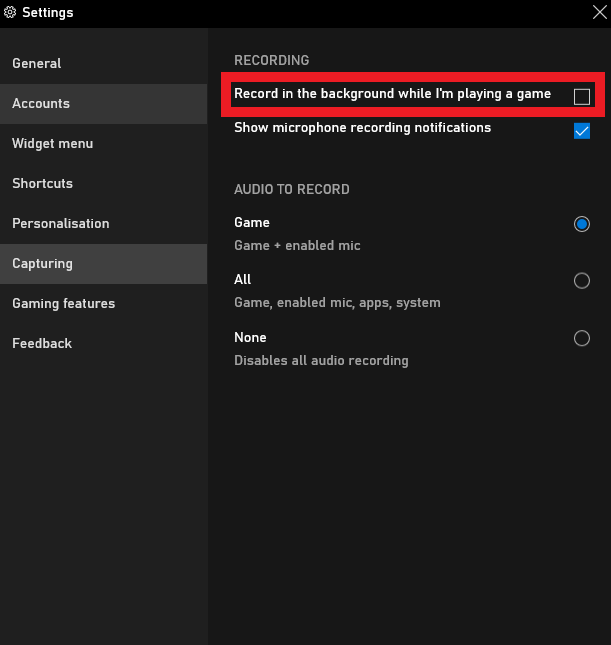 NVIDIA Shadowplay

If you are still having problems with game performance then please do click the button below to contact our support team for more help.