USING DISCOUNT CODES
If you've received a discount code to use on the store, please follow the instructions below to obtain your discount.
Log into the Frontier Store using your Frontier Account
Add the items you wish to use your discount code on to your shopping cart (note that some discount codes only work on specific items)
Go to your shopping cart
Enter your code in the DISCOUNT CODES section and then click APPLY COUPON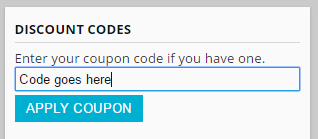 You should now see your discount applied and you can complete your order as normal.

Note: Discount codes often have restrictions on them and you may find that not all products in your order can be discounted equally. Discount codes may also come with specific instructions which, if different to the above, should be used instead.

Should you have any trouble redeeming your code, or if your code is invalid, please get in touch with the support team using the button below and include the discount code in your ticket.