IF YOU HAVE PURCHASED ELITE DANGEROUS OR HORIZONS SEASON PASS FROM STEAM PLEASE DO NOT FOLLOW THE STEPS LISTED HERE. PLEASE READ THIS ARTICLE FOR INSTRUCTIONS ON LINKING YOUR STEAM AND FRONTIER ACCOUNTS.
To redeem a Steam product code for Elite Dangerous or Horizons Season Pass after purchasing from the Frontier Store, please follow these steps:

1. Log into the Frontier Store and go to 'My Account'.
2. Click on 'Partner Keys'.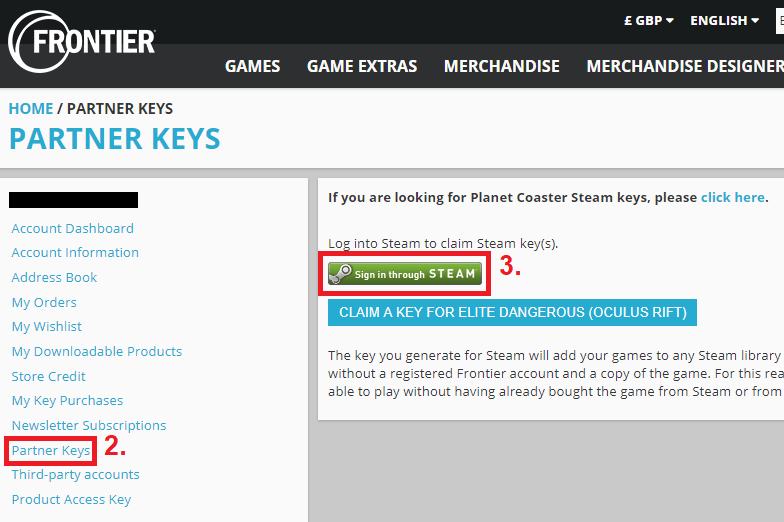 3. You should see a green button to 'Log in to Steam'. Click this to be redirected to Steam's website where you can log into your Steam account to link this to your Frontier Store account.
4. After the two accounts have been linked, click 'Claim a Key for Elite Dangerous' or 'Claim a Key for Elite Dangerous: Horizons Seasons Pass'.
You can now add this key to your Steam account as you would for any other game. Check out this guide for details. You will need to add the key for your Elite Dangerous to Steam before you can add the key for Elite Dangerous: Horizons Season Pass.

Once you've done this, you should be able to install Elite Dangerous via Steam and use the Steam Wallet to make in-game purchases here. If you also add the Horizons Season pass, this should show up as DLC on the Library entry for Elite Dangerous.

Please note: The keys you generate will add your games to any Steam library but WILL NOT GRANT ACCESS TO ELITE: DANGEROUS/HORIZONS. For this reason, please do not give your Partner key away to a friend! They won't be able to play without having already bought the game from Steam or from the Frontier Store.